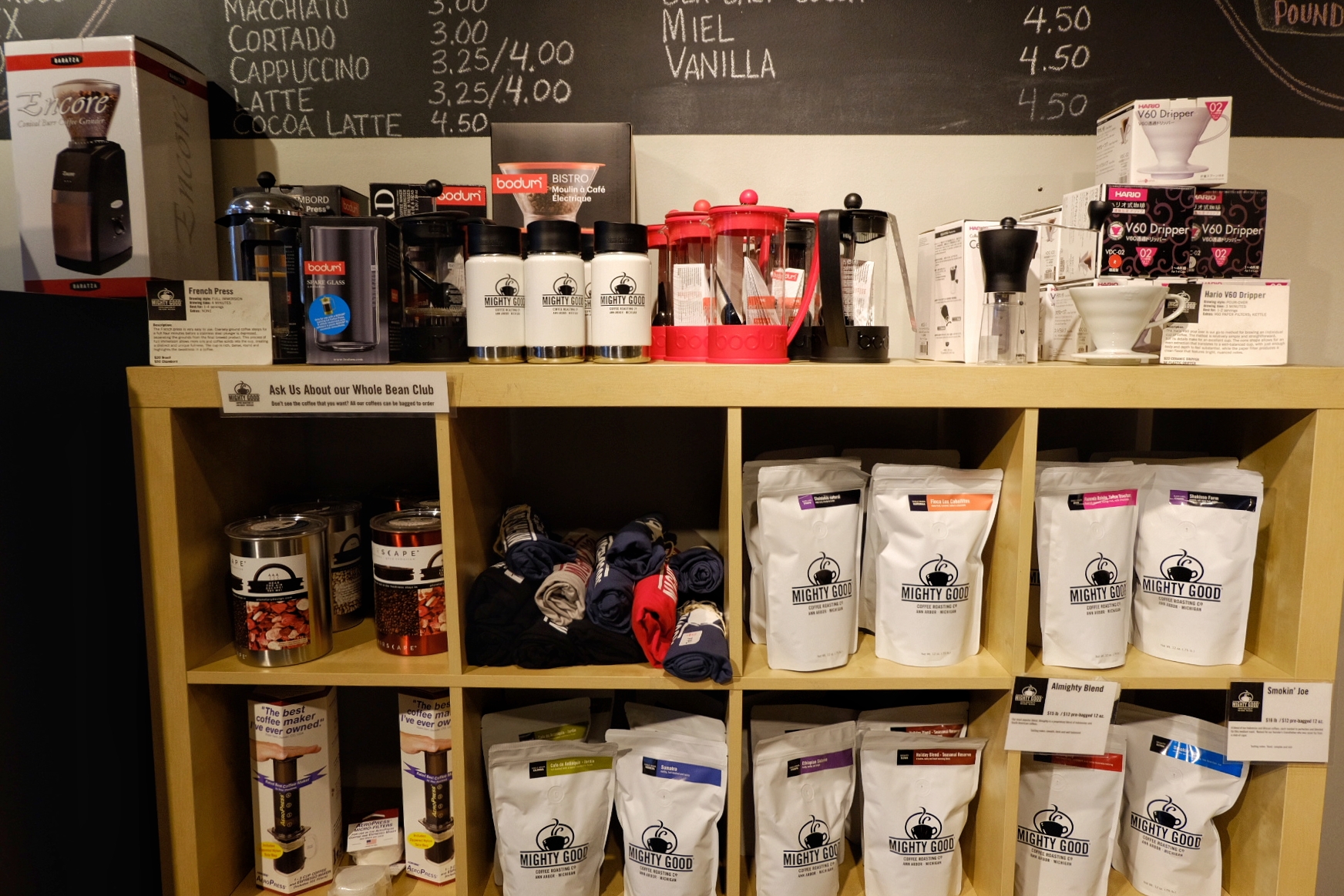 The Mighty Good Gift Guide
Snow is finally falling in Ann Arbor, and that can only mean one thing: the holiday season is upon us once again. Fear not, however, for Mighty Good Coffee is here to assist with your gift buying needs.
Coffee brewing can be a confusing subject, with countless different methods and paraphernalia available for all tastes and levels of interest. To help, we've put together gift bundles to encourage everyone to brew the best coffee possible over the holiday season.
In addition, we've designed three coffee sample packs to give recipients a taste of what Mighty Good has to offer—these are the perfect gift for those who love coffee but aren't quite sure which coffee they love most.
This is the simplest gift we have this year—a bag of Holiday Blend beans and a red, 12oz Mighty Good mug. The Holiday Blend has a warm, syrupy body, with notes of cranberry and a clean bright finish.
Perfect for: lovers of Mighty Good who want to drink their coffee from the same mug we use in our cafes, paired with the ideal coffee for the holiday season.
A great starter pack for potential home coffee brewers, this gift pack includes the aforementioned mug and bag of Holiday Blend beans, as well as a ceramic Hario V60 dripper and Hario filters.
The Hario V60 is a simple, versatile brewing device, ideal for making one or two cups at home. It's our go-to manual brew method in all our cafes. You can read a basic brew guide here.
Perfect for: those just starting out in the home-brewing game, or those looking to give their automatic coffee maker a break and try something new.
Going on vacation? Visiting family for the holidays but staying in a hotel? Camping trip planned for the spring? The World Traveler pack was made for you. It includes a Hario hand grinder, Aeropress coffee maker, Kleen Kanteen travel mug and a bag of Holiday Blend beans.
Freshly grind your beans on the go, brew them simply and quickly with the Aeropress, and keep them warm for up to 8 hours with our Mighty Good branded travel mug.
Perfect for: anyone who's ever arrived in their hotel room to find a sad, one-cup Mr Coffee gathering dust in a corner; anyone who's ever woken up in the Sleep Bear Dunes and realized that they're two hours from the nearest cafe; anyone who loves freshly-made coffee first thing in the morning.
Holiday Samplers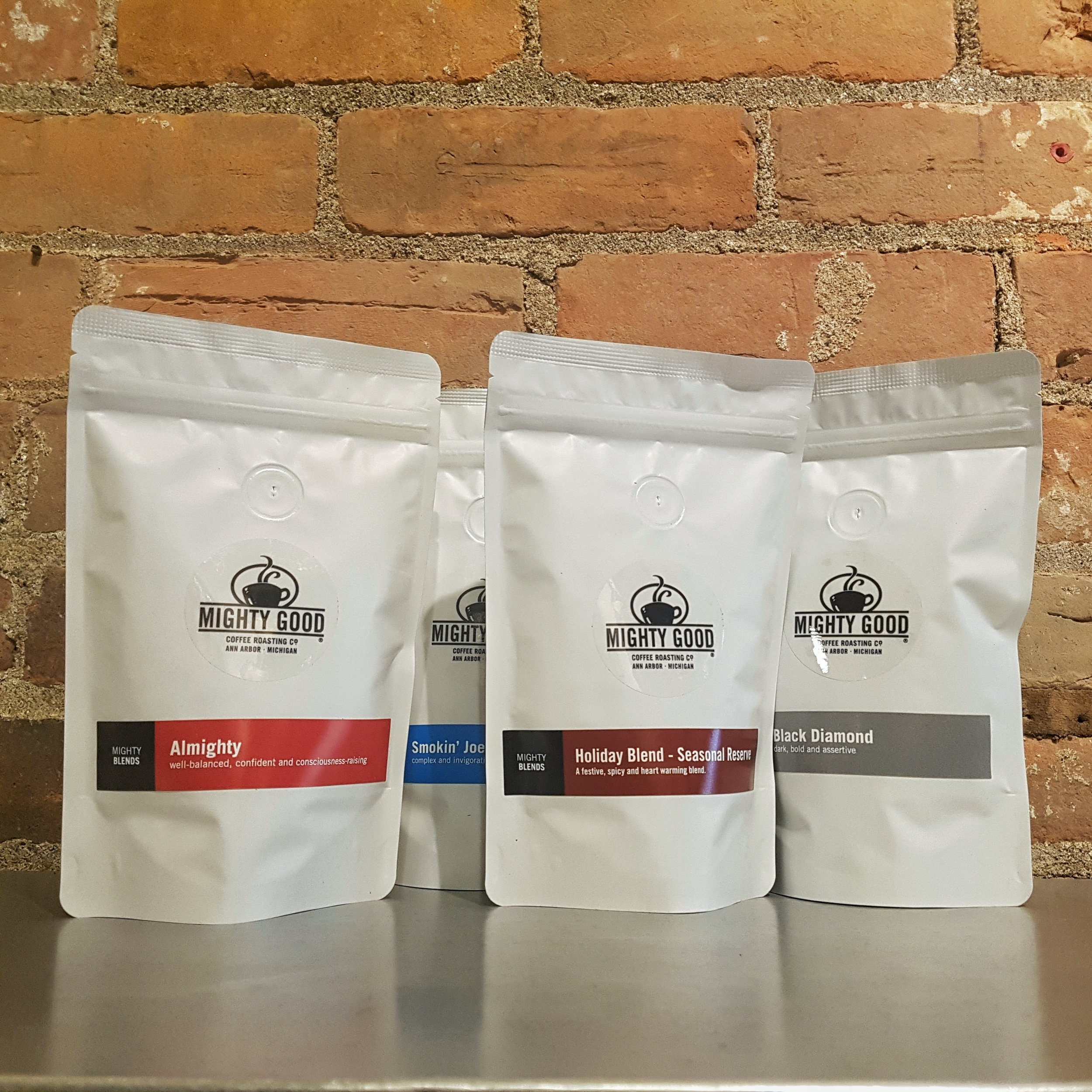 These quarter pound bags are the ideal way to try our coffees, or give a simple gift to friends and family. Each box contains four quarter pound bags compiled around a coffee theme: Signature Blends, Single Origin and Black Label.
Four quarter pound bags of our most popular blends including Holiday, Almighty, Black Diamond and Smokin' Joe. A certain crowdpleaser.
Four quarter pound bags from specific origins, including Costa Rica, Ethiopia Sidamo, Brazil and Sumatra. For the explorer.
Four quarter pound bags of our top-level coffees, including Ethiopia Shakisso, Ethiopia Chelelektu, El Salvador Finca La Siberia and Guatemala Finca Los Caballitos. The aficionado's choice.